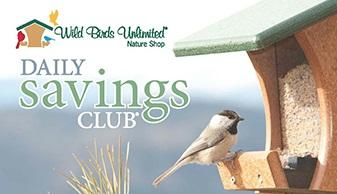 The Best Prices on the Best Bird Food in Town
Members of the Daily Savings Club® receive 15% off regular, everyday bird and wildlife food prices and an additional 5% off sale prices of bird and wildlife food at your Des Moines Wild Birds Unlimited. Plus, members also earn a $10 gift card, called Bird Bucks, for every $200 spent. So as prices rise around us all, members are guaranteed to get the best price on the best bird food in town, every day.
Memberships are just $25 per year. Stop by or call 515-222-1234 today for more details.