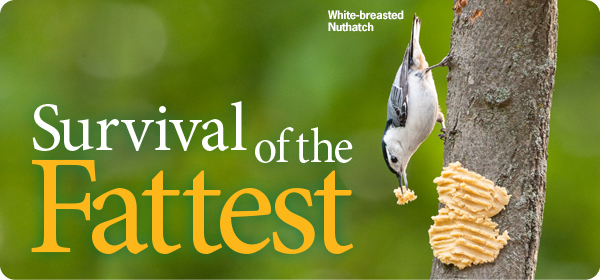 Help Birds by Offering High Fat Foods
High fat foods are highly sought out by backyard birds. Foods high in fat are the most concentrated energy source that a bird can consume. Stored body fat is the primary energy supply that fuels a bird between meals, through cold winter nights and throughout migration. Birds actively use bird feeders during the winter, especially first thing in the morning and just before dusk. These are the times they stoke their internal heater with fat to get the day started or to replenish their fat reserves to endure another cold night. Songbirds may use up to ¾ of their fat reserves during one winter night! If sources of high-fat foods are available, they can entirely replenish those fat reserves during the next day. In some birds this can amount to a 10% fluctuation in their daily body weight.
Stop in to talk to one of our Certified Bird Feeding Specialists and learn more about how you can help save the songbirds.
Or, if you prefer to shop online, we offer free store pickup, or free shipping on orders of $75 or more within 150 miles.
---